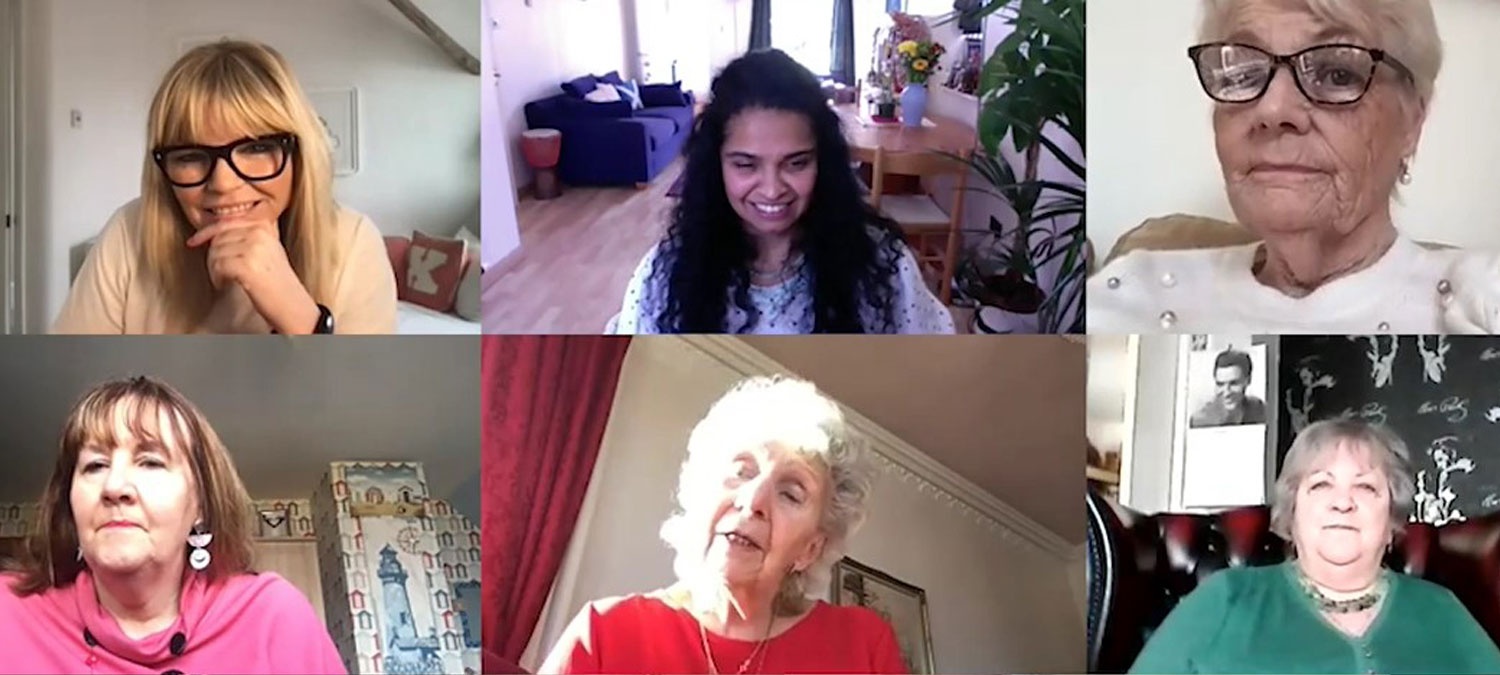 Celebrity appearance adds Wow
Date published: 05/03/21
Related fund:
This week the Glasgow charity Weekday Wow Factor welcomed TV presenter Kate Thornton to one of their regular online gatherings as part of the National Emergencies Trust Charity Champs campaign.
Glasgow based Weekday Wow Factor support older people's mental wellbeing and were awarded a grant from our Response, Recovery and Resilience Fund in 2020. As the fund draws to a close, our funding partner, the National Emergencies Trust, have launched a Charity Champs campaign to celebrate the impact of local champions like Weekday Wow Factor within their communities across the UK.
TV presenter, Kate Thornton, met with Weekday Wow Factor to champion their energetic response to the Covid-19 pandemic. The group have been hosting high-energy social activities, including virtual daytime discos, to help the older residents of Glasgow feel connected and uplifted during lockdowns.
Ms Thornton and Pasna Sallis, an Occupational Therapist and Founder of Weekday Wow Factor chatted online before being joined by some of the ladies the organisation supports. During their conversation, Ms Sallis tells Ms Thornton how Weekday Wow Factor used funding from the National Emergencies Trust to adapt and transfer their usual activities online. It has meant that they can continue to connect older people in Glasgow from a safe social distance.
Pre-pandemic, the Weekday Wow Factor introduced their older members to exciting and unconventional activities such as surfing, zip-lining and day-time discos. Speaking of the impact of lockdowns, Ms Sallis said: "Panic set in at the beginning. How are we going to actually remain sustainable? Then we moved onto zoom all together, learning together."
A number of Weekday Wow Factor's members also play a starring role in the video, striking a pose to Madonna's "Vogue" to show how they've danced their way to positive mental health during a difficult year. One describes what Weekday Wow Factor means to the group: "It gives us something every day to move ourselves, get our makeup on and make ourselves feel like human beings."
Journalist and TV Presenter Kate Thornton recognises the strain that the pandemic has had on people's mental wellbeing, particularly on those living alone and acknowledges the difference Weekday Wow Factor is making. She says: "It's a long time to be locked down on your own, to be isolating, to be shielding. It all rests on those shoulders, and sometimes you just need to throw your shoulders back. Music is an incredible therapy, I think. I defy anybody to look at the work you do and not smile."

Weekday Wow Factor is one of 1400 Scottish charities and groups to receive a grant from the NET Appeal through Foundation Scotland. To date, we've distributed more than £7 million across Scotland's communities on behalf of the National Emergencies Trust. The nationwide appeal has raised £97million, and more than £94million of this has reached communities UK-wide.

Like Weekday Wow Factor, 25% of charities and groups have used the funding to support people's mental health and wellbeing, while another 10% have specifically focused on addressing social isolation.
"For nearly a year now people in charities all around the UK have put others' needs before their own to help those hard-hit by the pandemic. The creativity and compassion they've shown in the face of such difficult times is truly inspirational. We wanted to take a moment to acknowledge and thank champs like Pasna at Weekday Wow Factor for their efforts, and we're so pleased that Kate Thornton and many others have been keen to join us."

Mhairi Sharp, CEO of the National Emergencies Trust
To read more stories and view more celebrity interviews visit the #NETCharityChamps website