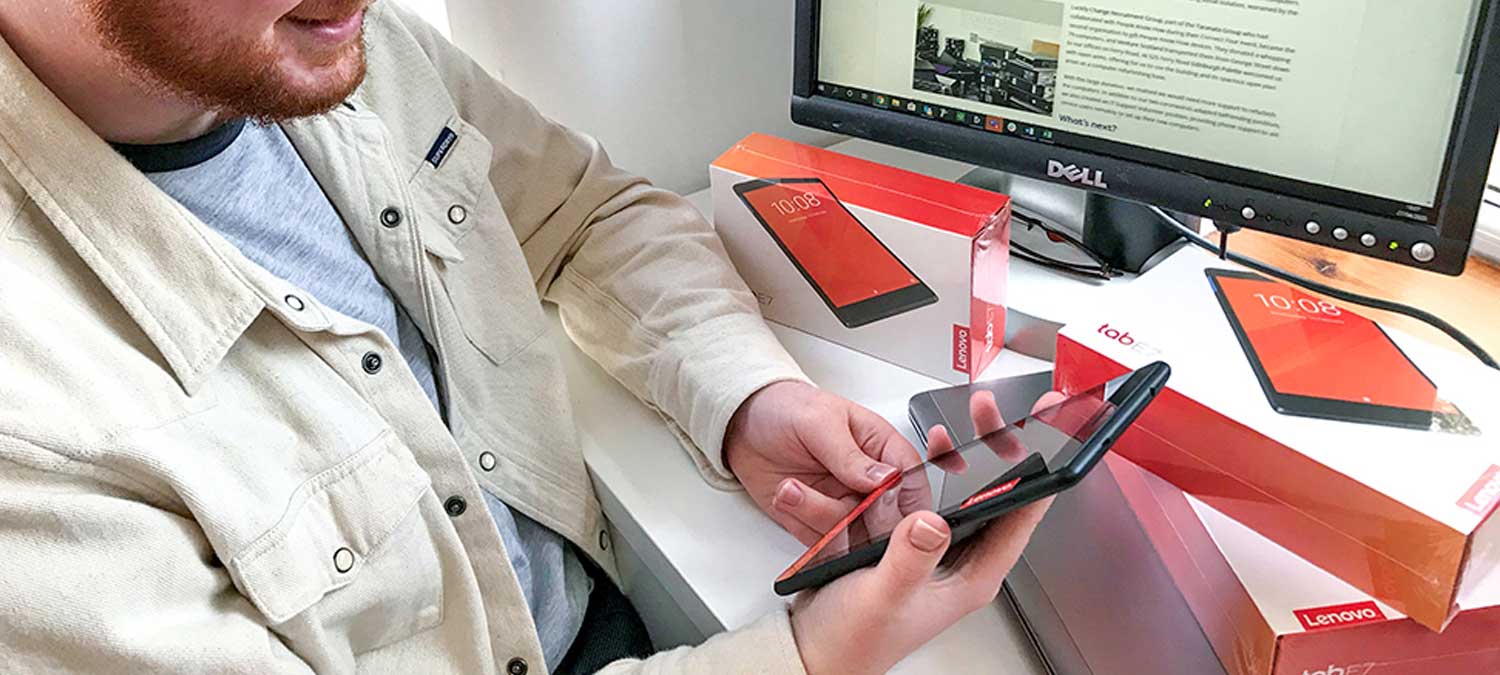 Connecting communities through lockdown
People Know How was established in 2013. Delivering services across Edinburgh and East Lothian, the organisation works collaboratively to implement activities and social change with projects reaching children, young people and vulnerable adults.
People Know How aims to eliminate data poverty through connectivity for all and to establish social innovation in the public consciousness. Volunteering is at the heart of People Know How with 160 volunteers supporting the service delivery to approximately 1,200 people per year.
The project
Funding from the Essentia Foundation is helping to support the People Know How's Computer Delivery project. The foundation awarded a grant of £2,500 which is helping People Know How to distribute digital equipment to the communities of Edinburgh and East Lothian. Pre-loved mobiles, laptops and tablets are being refurbished by the organisation and delivered to individuals from all walks of life such as parents' homes schooling, grandparents shielding alone, the disabled community and those who are isolated and in poor mental health.
"It was a joy to hand over a superb device to someone who has never been online before but now has the internet coming into her little flat."

Helen, People Know How Volunteer
A key pillar of the Computer Delivery Project is the concept of connectivity. Recognising the rise of loneliness and social isolation during the Covid-19 pandemic, People Know How has worked hard to ensure that once an individual receives their device, they can then be matched with a befriender. These volunteers encourage and support device recipients to learn new skills and reconnect with friends, family, hobbies and passions online. This has led to the creation of an active online space in which traditional community ties are maintained and new ones are being made.
"I just cannot thank the project and my befriender enough for making such a difference in my life. Only today I was on FaceTime and watched my granddaughter playing the cello. Brought tears to my eyes."

Sheila, computer device recipient
Outcomes
Since April 2020, People Know How has delivered over 1,300 devices to local households. The Computer Delivery Project has facilitated tangible change towards connectivity for all and has led to the creation of online events such as 'Connect Four : Digital Inclusion' which took place in November 2020. This event invited key voices in digital from across the academic, business, and public sectors to take part in discussions and explore the obstacles to achieving digital inclusion in Scotland.
The Computer Delivery Project continues to support local communities recover from the pandemic. With the help of the Essentia Foundation, initiatives like this highlight the vital role that grassroots organisations play in helping Scotland's communities thrive.
For more information on People Know How visit their website here.