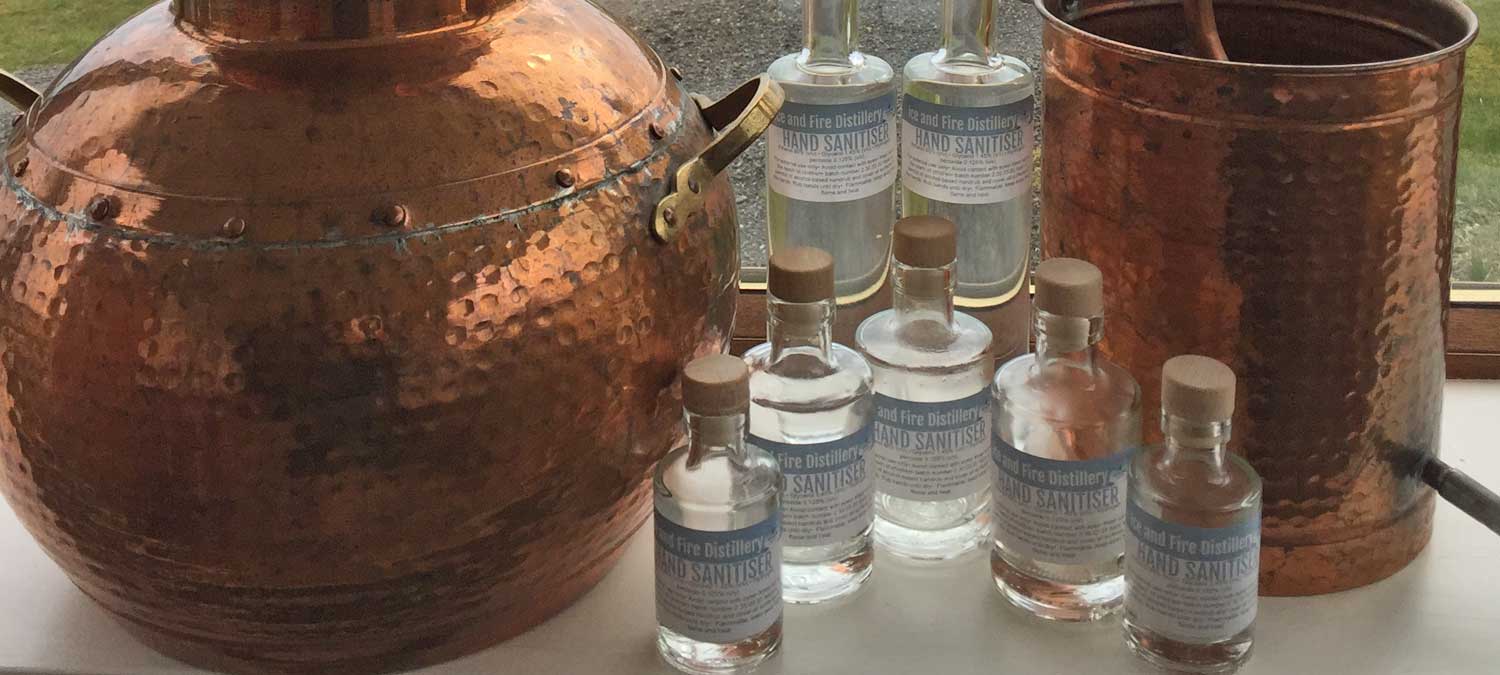 When the lockdown was announced the owners of the Ice and Fire Distillery, near Latheronwheel, wanted to put their expertise to good use.
The artisan gin producer was awarded £9,098 from the RWE Camster Wind Farm Community Fund to switch from its usual gin production to hand sanitiser production at the start of the Covid-19 pandemic.
In March 2020 there were national, and global, shortages of hand sanitiser and manufacturers could not keep up with the demand. This award was made very swiftly by the fund panel so that the distillery could quickly order the denatured alcohol which was also beginning to see high demands as other distillers across the country began to see the opportunity. The award was enough to purchase of 2,000 litres of denatured alcohol which enabled the production of 3,000 litres of hand sanitiser.
The hand sanitiser was then distributed for free to all community hubs in Caithness, Helmsdale, Strathy and Tongue. Businesses and shops in Caithness and Sutherland also benefited from free supplies so their customers had peace of mind when visiting. Lybster and Dunbeath Medical centres, Wick and Thurso railway stations and all trains going into and out of Caithness have also benefited plus the District Nurses, Macmillan nurses, care homes and local care workers and key workers.
The main ingredient in the World Hearth Organisation's hand sanitiser recommended recipe is denatured alcohol. The denatured alcohol is not fit for human consumption so differs from the alcohols usually purchased by the distillery. It required a separate license to be able to purchase and the applicant had to secure this license as a condition of the grant. The distillery also had to send a batch of the new sanitiser to public testing laboratories in Edinburgh as part of Highland Council trading standards policy, this was also made a condition of the grant.
"The local community supports us in good times so it is our duty to support them where we can in hard times. We can only thank Foundation Scotland and the Camster Panel for their foresight and generosity and also the speed with which they responded. Your donation allowed us to support the entire Caithness community when hand sanitiser was unavailable. It has provided a vital resource in the fight against Covid-19. All businesses, health care providers and community outlets needed hand sanitiser and many were finding it impossible or prohibitively expensive to source it. This has provided a large proportion of Caithness with this resource."


Jacqueline Black, a Director at Ice and Fire Distillery
If you'd like to know more about this fund, including other projects which have been funded in Caithness, visit the RWE Camster Wind Farm Community Fund. To find out more about the distillery visit the Ice & Fire website