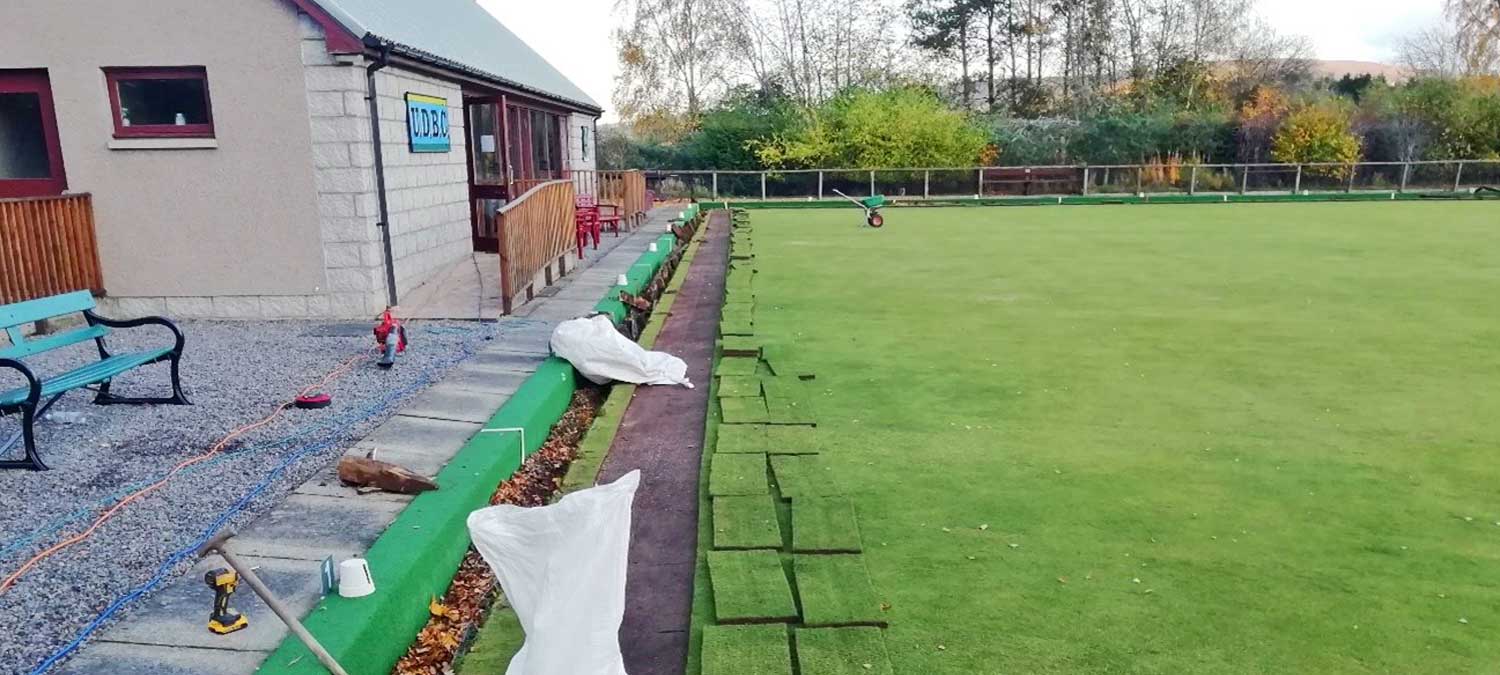 Keeping a busy recreational facility fit for purpose
Upper Donside Bowling Club was established in 1991 to promote outdoor bowling in the Upper Donside area of Aberdeenshire.
The Club grounds are in Glenkindie, and around half of the 40 members live in Kildrummy, Lumsden and Towie. The Club has maintained and improved the facilities over the years, running successful competitions annually, and relying on local volunteers, fees and fundraising to keep the facility going.
The Kildrummy Wind Farm Community Benefit Fund has made 5 awards to support the Club, totalling £14,341, up to the end of 2020. This has included the purchase of specialist equipment to maintain the bowling green, safety improvements such as handrails, and help with maintaining the facility by renewing ditches and banks. The most recent award, in 2020, was of £4,000 to fund the replacement of the wooden supports around the bowling green to stop the erosion of the bank, and replacement of the gravel in the ditch with a rubber liner. This work was considered essential to avoid slumping of the bowling green which would make it unusable.
This type of repair work to bowling greens is carried out by specialist companies. The replacement of the timber edge with new treated timber required the existing edging to be dug out, the ditch to be excavated to accommodate new edging, and new treated timber edging being installed. The edge of the green had to be levelled and the set-aside turf re-laid. A rubber liner was laid to replace the gravel at the base of the ditch to reduce damage to the bowls. The total project cost was £8,500 with the Club meeting the balance of £4,500 from its own reserves.
"The grants from the Kildrummy Wind Farm Community Fund have made lasting improvements to the Bowling Club with new equipment being purchased to create a better playing surface and the bowling green edging being replaced and upgraded. All together these have brought great benefits for current and future members of the Club to enjoy."

Janet Bukowski, Club Secretary
Repair and maintenance of the bowling green fits with the fund theme of 'Supporting Community Services & Facilities'. Around 40 to 60 people benefit from the Club facilities every week, including members who bowl regularly along with visiting teams and other visitors. The Club takes great pride in having a well-kept green and is keen to maintain it as an attractive community facility, which will also help to encourage new members to join.
The Kildrummy Wind Farm Community Benefit Fund supports charitable projects that benefit residents of Kildrummy, Lumsden and Towie/Glenkindie within the Donside Community Council area. To find out more, please visit the fund page.