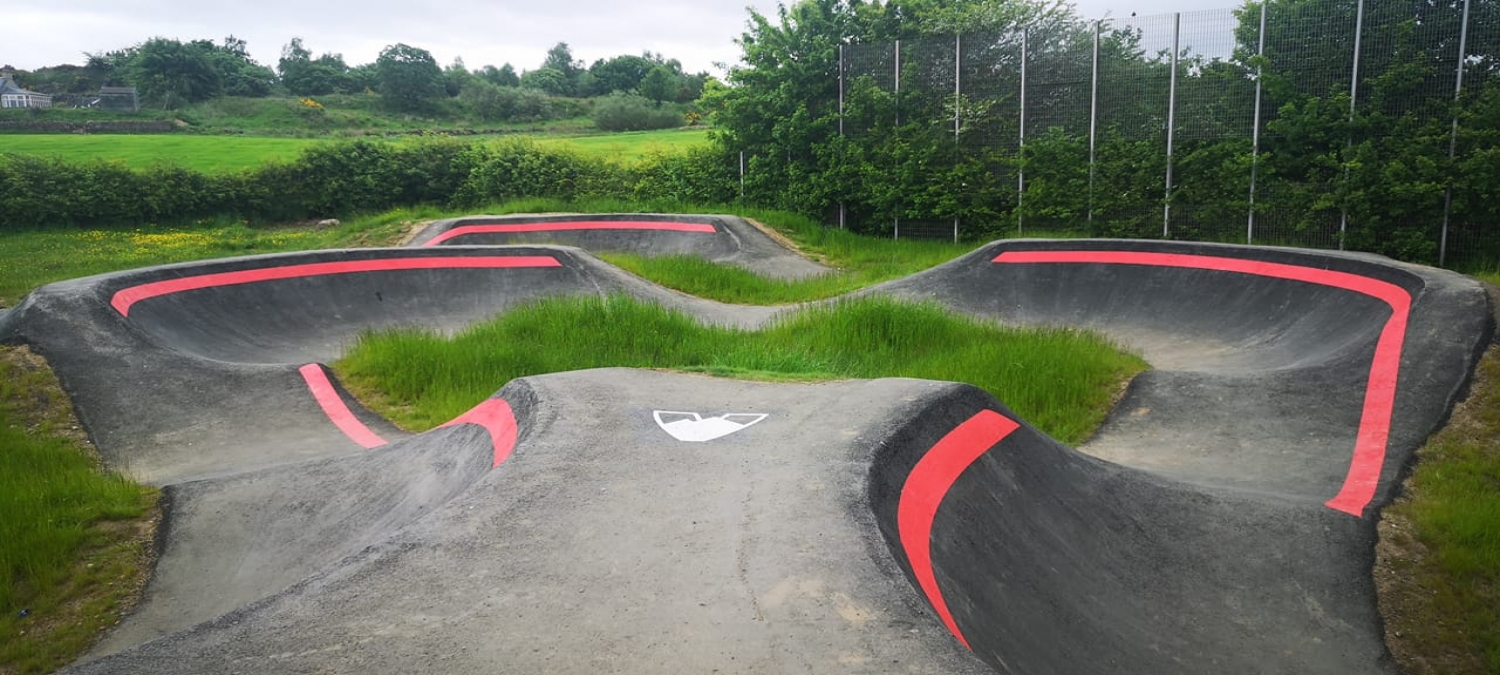 Pump Track pump-primes public park
Date published: 22/09/21
Related fund:
A newly opened Pump Track has kick-started a major overhaul of an ageing public park in Avonbridge, thanks to a grant from the EDF Renewables Burnhead Moss Wind Farm Community Fund.
Thanks to a dedicated group of volunteers and fuelled by grant funding from the EDF Renewables Burnhead Moss Wind Farm Community Fund, Avonbridge public park is undergoing dramatic improvements.
A magnificent new track is now up and running, marking a significant milestone in the community's efforts, and more importantly, providing hours of enjoyment for residents young and old. The Pump Track was made possible by a grant of just under £30,000 from the EDF Renewables Burnhead Moss Wind Farm Community Fund, fuelling the efforts of the Avonbridge & Standburn Recreational Initiative (ASRI) group who took up the challenge to improve local parks in April 2018.
The ageing park has long been a source of frustration amongst residents, and a wish to improve it has been a frequent source of conversation in the area:
"...perhaps no other single project would unite the Avonbridge community as much as providing better play facilities for children and young people [in Avonbridge Park]. The current amenities in the public park on Slamannan Road... do not meet the needs of many people, the principal shortcomings being the lack of play equipment for older children and teenagers".

Avonbridge & Standburn Community Action Plan (2017)
Having constituted in 2018, ASRI worked closely with the Avonbridge & Standburn Community Council to carry out extensive consultation with residents, school children and youth groups to develop designs and funding plans. Extensive negotiations with a supportive Falkirk Council resulted in exciting plans and a Council commitment to carry out £10,000 worth of site drainage works allowing the Pump Track to be built. The track was designed by Velosolutions (including Bikescape), a global leader in pump track and trail building and famed for building Glasgow's World Club BMX track. Suitable for scooters and skateboarders, BMX bikes to Mountain Bikes, wheelchairs and everything in between, the Pump Track has proved a big hit with residents and attracts visitors from further afield. It's even achieved its own YouTube following!
ASRI hasn't stopped there. The successful Pump Track project has helped persuade other funders to get involved. A further £120,000 is now kick-starting further transformation of the Queen Elizabeth Field (Avonbridge) and the Fairview Park (Standburn). With bespoke designs reflecting both villages' mining and railway industrial heritage, playground equipment, benches, and picnic areas will make the parks centrepieces of community life. Both designs include inclusive play opportunities and access to equipment encouraging sliding, climbing, balancing, spinning, rocking, swinging and social play for children of all ages and abilities - and the young at heart!
ASRI chairperson Jo Hirst is delighted with the Pump Track's success:
"We are extremely proud to have secured this level of investment in our small communities. This is a great example of what can be achieved by a small group of dedicated individuals with a vision for improvement. We hope our efforts will inspire other residents to devise and develop interesting and exciting projects in the coming years."