Great Glen Energy Co-operative fund
| | |
| --- | --- |
| Main Grants | Up to £20,000 |
| Area | Highland |
| Key dates | |
| Main grants application deadline: | 15th November 2023 |
| Decision meeting: | 11th January 2024 |
| Main grants application deadline: | 15th February 2024 |
| Decision meeting: | 11th April 2024 |
| Small Grants: | Up to £2,500 Applications for small grants can be made at any time with decision in four weeks. |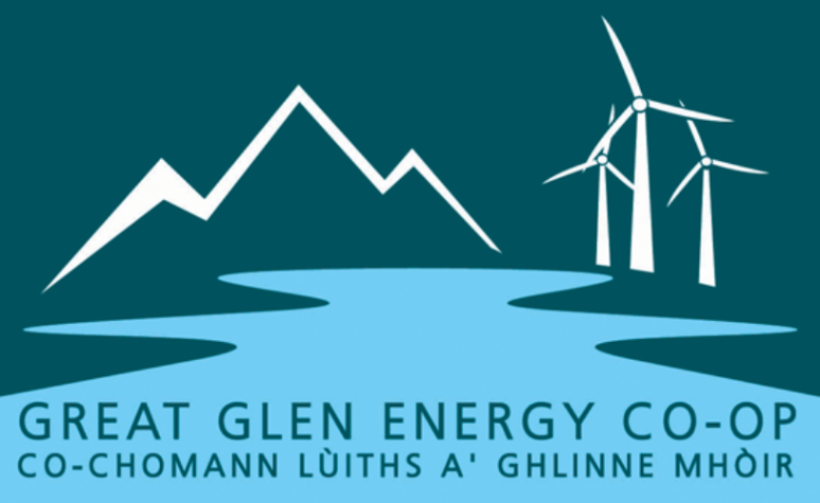 About this fund
The Great Glen Energy Co-operative purchased a stake in the Millennium wind farm in 2008. The wind farm is owned and managed by Millennium Wind Energy Ltd and is located in the hills north of Invergarry. There are currently 26 X 2.5 Mw Nordex turbines on the site. In full operation, they produce enough clean green energy to supply around 36,000 average homes.
The Co-op makes donations to local community groups and organisations to assist them with the cost of creating exciting new projects for the benefit of local people.
Projects which benefit residents of the following community council areas are eligible:
Glenurquhart
Fort Augustus & Glenmoriston
Glengarry
Stratherrick & Foyers
Dores & Essich
Inverness West
There are several grants available:
Main grants: Community groups can apply for grants of up to £20,000 for projects related to the environment, education and equality.
Small grants: Individuals and groups can apply for a smaller grant of up to £2,500.
Individuals may ALSO apply for educational support of up to £2,500, if training/course relates to other fund themes of environment and equality.
Purpose of this fund
The fund will support charitable activity that provides community benefit under the following themes:
• Environment
• Education
• Equality
All applications must address at least one of these themes in order to be eligible for consideration. The strongest applications will meet two or more.
Projects should demonstrate benefit in one or more of the community council areas listed above.
Who can apply?
Groups and organisations working to benefit people in the fund area can apply for a grant. Applicants must have a constitution and be set up on a not for profit basis. They do not need to be a registered charity to apply, but activity must be charitable/for community benefit.
Applications from groups/organisations located out with the fund area will be considered on a case-by-case basis and must demonstrate clear benefits for residents within the fund area.
Educational awards for individuals can support costs related to education and training such as fees, travel and accommodation up to £2,500. Evidence of residency in the fund area and of course enrolment will be required.
Please see Foundation Scotland's standard eligibility criteria.
Applicants are encouraged to contact the Fund Adviser at Foundation Scotland for an informal discussion about their project before submitting an application.
Both revenue items (eg running costs), and capital items (eg to buy equipment) can be funded.
Applicants are normally expected to provide evidence of value for money, such as quotations, for costs over £300. See the Foundation Scotland website for further details.
What can't be funded?
The following types of activity will not be supported:
The advancement of religion or politics
Activities which are deemed to be the responsibility of statutory authorities
Projects benefiting primarily those residents outwith the area of benefit
Activities contrary to the interests of the fund
Activities likely to bring Foundation Scotland and/or the fund into disrepute
Anti-renewable energy/wind farm activities
The repayment of loans or payment of debts
Costs already incurred or activities that will take place before the panel has made a decision on an application (retrospective funding)

How are decisions made?
Applications for small grants (£2,500 and under) will be accepted on an ongoing basis all year round. Applicants may be contacted by Foundation Scotland to clarify aspects of the application. Decision making is delegated to Foundation Scotland for small grants and applicants will be informed of the outcome within four weeks of submitting a complete application. Foundation Scotland will report quarterly to GGEC board on small grant awards.
The main grant programme (£2,501 to £20,000) will operate on the basis of four rounds per year, with decisions made by GGEC board at quarterly board meetings.
Applicants for large grants should expect to be contacted by Foundation Scotland for an assessment interview. This will be carried out over the telephone or by video conference. The assessment is an opportunity to provide further information, so that the board have a thorough understanding of the project. GCEC board will make decisions on awards based on Foundation Scotland assessment report.
Decisions will be final. Unsuccessful applications will receive feedback.
Sources of advice and support
The Fund Adviser is available to provide advice and support throughout the application process and applicants are encouraged to get in touch before applying.
The Foundation Scotland website has lots of useful information to help applicants more generally, such as Foundation Scotland's webpage on designing projects for people and planet which includes links to resources and case studies from across Scotland.
Other support organisations:
Contact information
For application process and technical enquiries
Central Systems Support
For criteria and fund priority enquiries
Marion McDonald, Fund Adviser