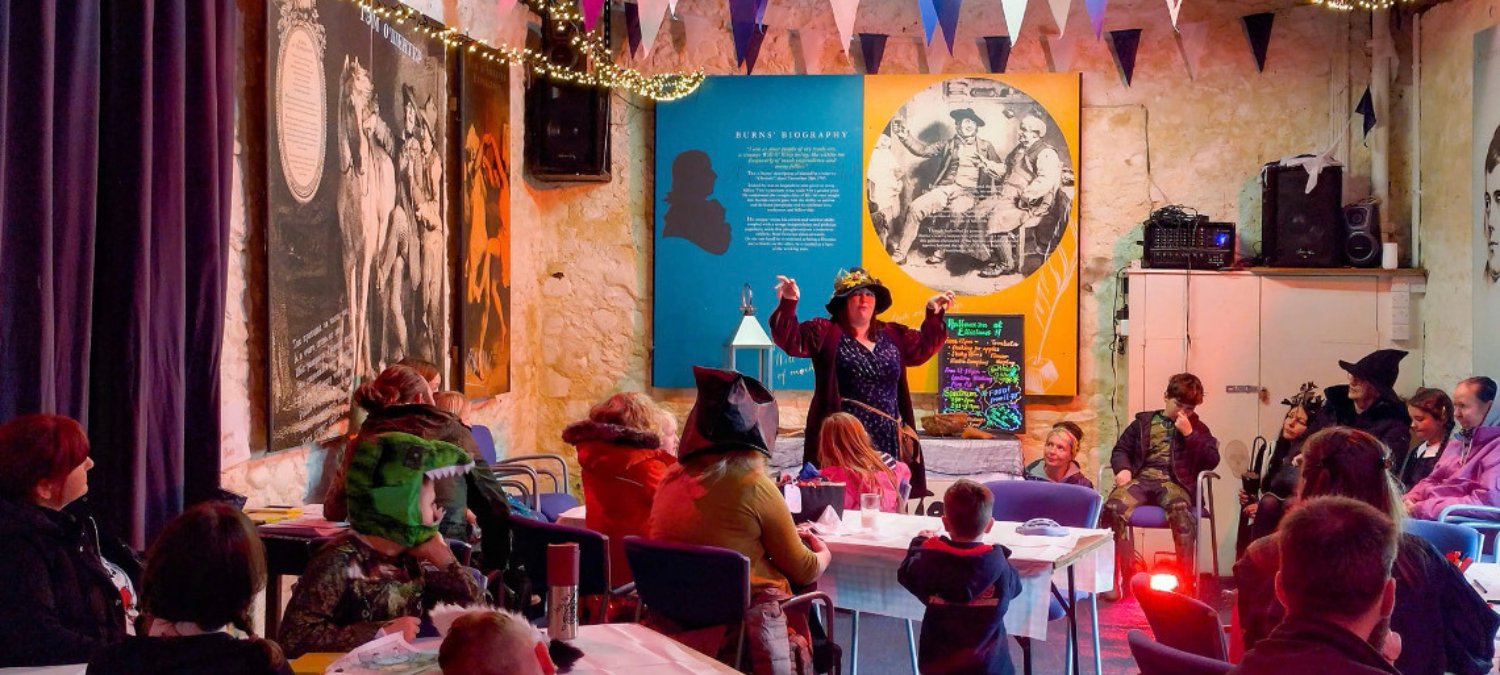 Championing the history of Ellisland, home of Robert Burns
The Robert Burns Ellisland Trust was awarded funding by Annandale and Nithsdale Community Benefit Company (ANCBC) to run a series of events to enable people to enjoy the heritage of Robert Burns at Ellisland, the most authentic of all his homes.
Robert Burns Ellisland Trust, based in Dumfries and Galloway, was established in 2020 to care for Ellisland, a farm built by Robert Burns between 1788 and 1791, where he wrote many of his most famous poems. He found great inspiration in the beauty of the surrounding countryside, the various people he met and the events he witnessed while living there.
The Trust champions the incredible history of Ellisland and the heritage of Robert Burns through their published programmes, collections, site, house and landscape. Ellisland has changed little since the 18th century and remains the most authentic of all his homes.
Both the historic buildings and museum collection were deemed to be at risk in a Conservation Management Plan (funded by Historic Environment Scotland in 2021), and so by raising awareness of the cultural site, the Trust hoped to help preserve it for a long time to come. A grant of £3,000 was awarded to the Trust by Annandale and Nithsdale Community Benefit Company to support a series of cultural and community events at the Farm during 2022 and 2023. These events have enabled the Trust to build up its audiences after the pandemic and to attract more children and young people to the house.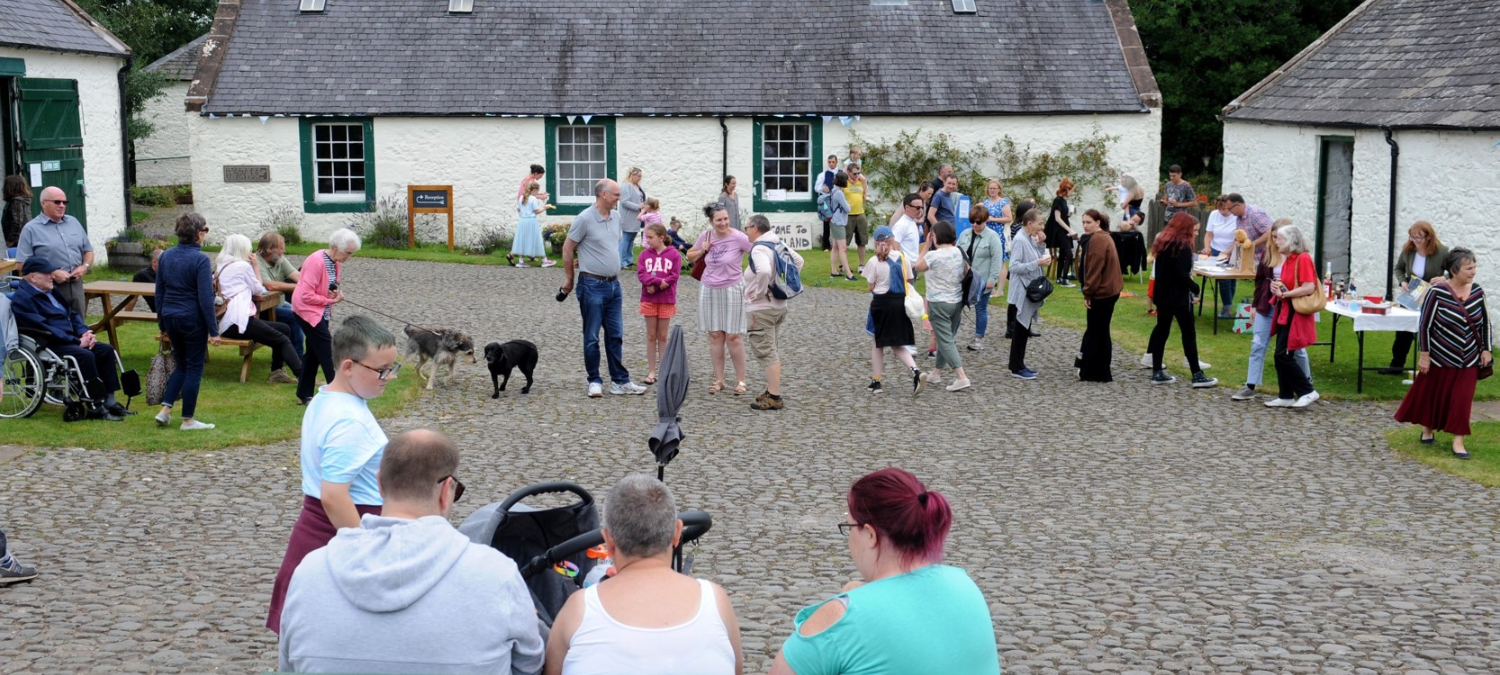 The funding paid for publicity, marketing, food, printing and event equipment. It was also used to cover the artist's fees which contributed to making the costs more affordable and, therefore, accessible to local people, particularly young people. The success of these events demonstrated that the trust was committed to engagement and gained them Museum accreditation, with their Family Burns Brunch being used as an example of best practice on the Museums Galleries Scotland (the government's museum agency) website.
The events held by the Robert Burns Ellisland Trust included:
Family Burns Brunch – January 2023
An event aimed at those who could not attend a traditional Burns Supper, which tends to be aimed at adults, often at night and involves alcohol. This event was during the day and was an affordable, family-friendly event. The event was a sold-out success, and many attending had not previously enjoyed a Burns supper.
A Tribute to Jean Armour – February 2023
A unique music and storytelling event created by musicians Robyn Stapleton and local Burnsian Jane Brown as a part of a week of activities exploring Jean Armour and her work, including learning about how food was traditional with sessions such as butter-making and specialist tours. Forty-seven people participated in the concert and the workshops sold out.
A Family Fun Days – Summer 2022
Two family fun days in the summer allowing families to enjoy the site without spending lots of money featuring activities such as free traditional games, music by the young learners of the Spectrum Music School, free nature trails, arts and crafts and the chance to tour the historic site and learn more about Burns and his work. Many of the participants were families who had not previously visited the site, 220 attended.
Halloween Celebration – October 2022
New interpretation boards about past Halloween Traditions were created alongside free traditional activities such as Apple Dookin', performances by musicians and storytellers and a live performance of Tam o Shanter, which was written on the farm itself. There was also a free guising competition which attracted many children, and the event overall welcomed 250 people.
Young Trad concert – December 2022
An event which gave young local performers the opportunity to perform alongside an established professional musician, with Siobhan Miller, a three-time winner of the Scots Trad Music Awards, as the headline performer.
Harvest Supper – September 2022
An event provides a valuable opportunity for the trust to build its partnership with the Dumfries and Galloway Burns Association which runs a school competition. The event allowed the winners to perform before a paying audience in the barn built by Robert Burns.
Community Christmas Part for Volunteers and Friends
An event to thank the supporters and volunteers of the Robert Burns Ellisland Trust and give them an opportunity to connect after several years due to the pandemic preventing them from gathering.
Hogmanay at the Home of Auld Lang Syne
Robert Burns wrote Auld Lang Syne, what would become the New Year anthem, at Ellisland. To celebrate Hogmanay and this little-known fact while raising the profile of Ellisland as a local and national heritage asset, an event with traditional food, music and a ceilidh with a local band was put together for the community Sixty people attended.
Joan McAlpine, Business Development Manager at the Trust said, "The Ellisland Alive! Project has been transformational in developing the "placemaking" value of Ellisland as an important heritage asset for Dumfries and Galloway and underlined the value of events in highlighting the "intangible cultural heritage" of the area. It has helped us test and develop ways to reach more diverse groups of people with Burns and Scots tradition - particularly children and young people."