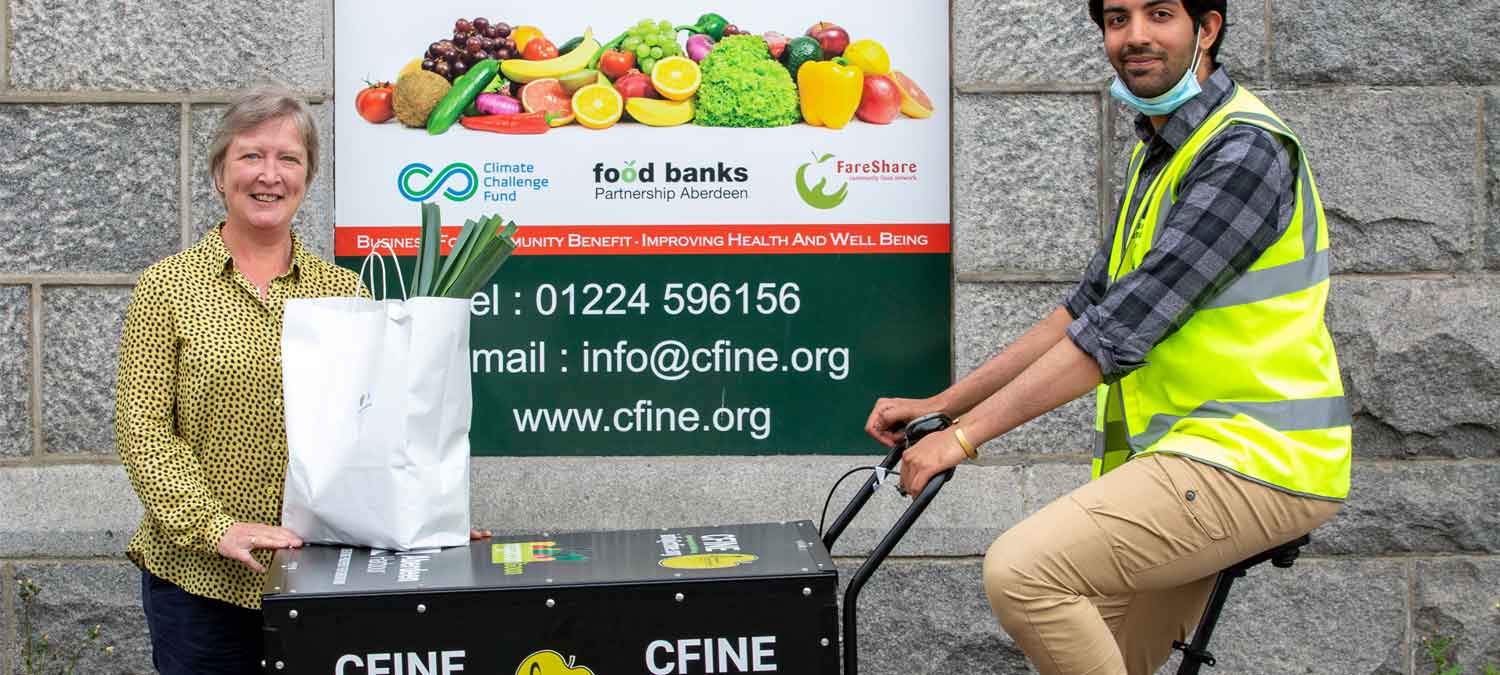 Investing in low carbon travel
During its first three years, the Unlock our Future Fund has supported the purchase of electric cargo bikes, electric vans, an electric bus, an electric car and an electric utility vehicle. These have replaced fossil-fuelled vehicles and support community groups to deliver their services in a less carbon-intensive way.
The transport sector is a significant producer of carbon emissions. Finding less carbon-intensive ways of transporting people and goods will be an important element of Scotland's journey to net zero.
During the first three years of the Vattenfall Unlock our Future Fund, which supports climate-smart initiatives in Aberdeen and Aberdeenshire, a significant proportion of applications have been to support voluntary groups in moving away from fossil-fueled transport.
The fund has supported Camphill School and Community Food Initiatives North East (CFINE) to purchase electric cargo bikes. Both organisations find the bikes ideal for transporting small deliveries of food on short journeys. The bikes are economical, safe and user-friendly. They can be used by students at Camphill School and volunteers at CFINE with a small amount of training. The benefits of the cargo bikes go well beyond the carbon savings they achieve when compared to conventionally fueled vans. A staff member at Camphill School described the positive impact the bikes had on the students who were using them to make food deliveries across the school campus:
"Cycling has been beneficial for the students' health and wellbeing. It's improving their fitness, agility and balance and we've seen anxiety levels reduce. The students involved in this project really look forward to cycling and we can see how much joy it gives them… Another student smiles from ear to ear when he's on the bike, he just loves it!"
Where deliveries are larger or journeys longer, projects have been awarded funding to purchase electric vans. Aberdeenshire Sailing Trust use their van to transport boats and equipment between sites; Stella's Voice transport food and furniture to households in need. The organisations have remarked on how much interest these vans generate, with people wanting to know more about the practicalities of electric vehicles. These informal conversations are an important part of encouraging electric vehicle uptake in the wider community.
Aberdeenshire, like many rural areas in Scotland, has areas with poor or no public transport services. This presents a major difficulty for those without cars, particularly if they are in poverty, experience ill health or are less mobile. Buchan Dial-a-Community Bus has been piloting 'Be-link'D', this is a free service for those unable to access public transport, with timetables built around the needs of users. The service was initially piloted using a diesel fueled minibus – but this has now been replaced with a seven-seater electric vehicle, thanks to the Unlock our Future Fund.
Buchan Dial-a-Community Bus run a fleet of diesel powered minibuses. The purchase of their first electric vehicle is seen as an opportunity to test a smaller electric vehicle in the context of providing a community transport service. As with many projects supported by the Unlock our Future Fund, the funding is allowing the organisation to experiment with a new approach to delivery which saves both costs and carbon emissions.
This need to test an electric vehicle was also at the forefront of the application to the Unlock our Future Fund from Tigh a'Chomainn Camphill, a community providing care to adults with special needs. The replacement of a diesel car in their fleet with an electric car has confirmed their suitability. As a staff member stated:
"We have overcome a great deal of the hesitancy and anxiety regarding the move to an electric fleet thereby demonstrating the viability of our travel strategy."
One of the more unusual vehicles purchased with support from the Fund is an electric utility vehicle, used by the Meldrum Amenities Improvement Group (MAIG) to maintain the planting and floral displays in Old Meldrum. The vehicle replaced an old diesel tractor. The electric utility vehicle can be seen out and about in the town centre all summer, promoting electric vehicles to the residents and visitors admiring the floral displays. In 2021, the Unlock our Future Fund supported the purchase of solar panels for the MAIG garage, so now the utility vehicle can be run fully on self-generated renewable power, with any surplus being sold to the grid.You can read a case study on this project here.
The purchase of electric vehicles and bikes by the organisations supported by the Vattenfall Unlock our Future Fund has shown a wide range of benefits in addition to direct carbon savings. They have allowed groups to test electric vehicles before adopting them more widely. They have also been a very visible demonstration of a commitment to lowering emissions, and have generated a lot of interest in the wider community who may still be hesitant about purchasing electric cars. There have been some hiccups in adopting electric vehicles – however, these have usually related to delays in procurement rather than difficulties in their operation. It has also been noted that insurance costs can be higher than expected for more specialised vehicles.
To find out more about the fund, visit Vattenfall Unlock our Future Fund.