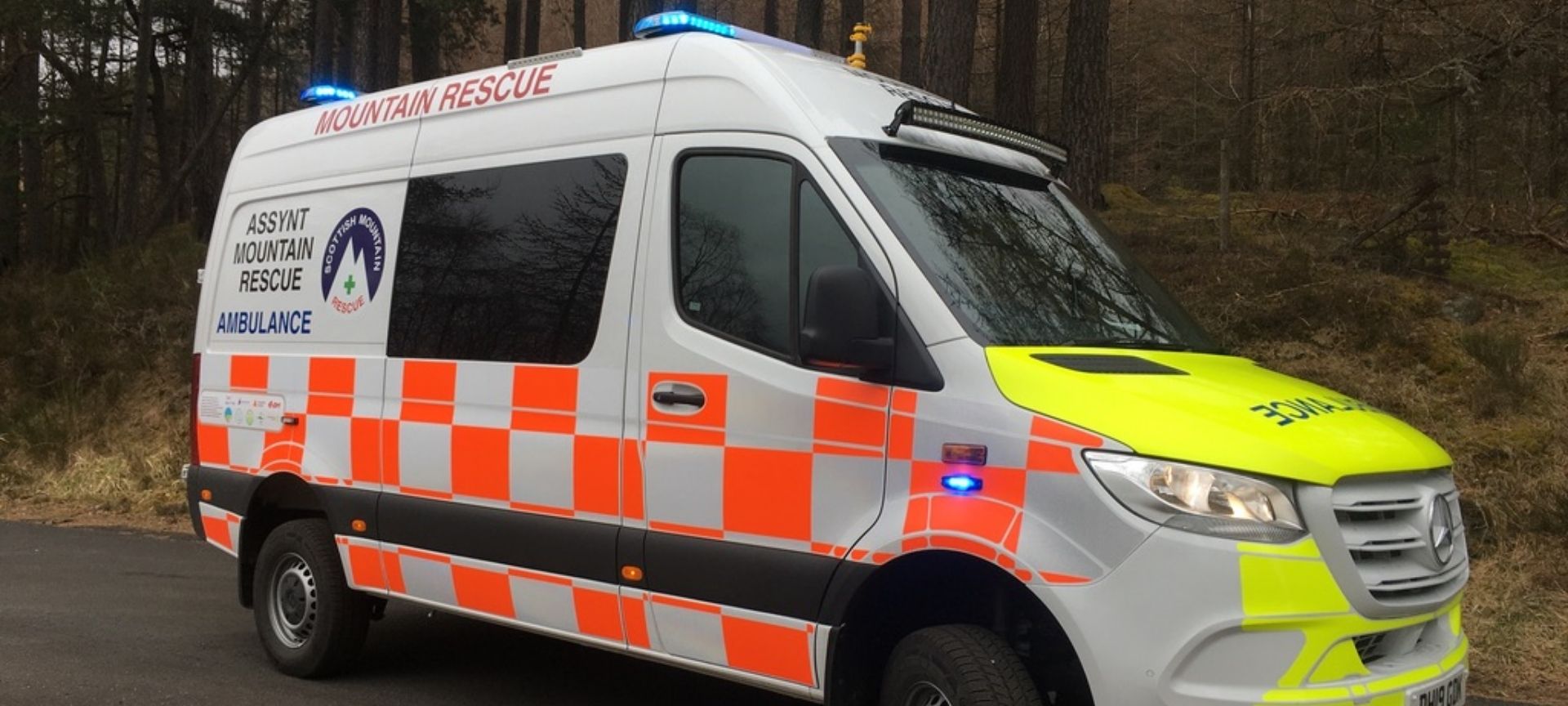 Local Wind Farm Funds Come To The Rescue
The Assynt Mountain Rescue Team is a group of volunteers, one of 27 mountain rescue groups across Scotland. It provides search and rescue services across all of Caithness and Sutherland; a large remote area with opportunities for numerous outdoor pursuits, a larger area than any of the other 26 Teams. The Team consists of 30 highly trained Operational Officers, three search dogs and two off-road ambulances. The volunteers train at least once a month to ensure existing skills are refreshed and new skill sets developed and to ensure familiarity with the terrain.
On receipt of a 999 emergency call, the Team and vehicle must be on the road quickly. The Team's specialist vehicle, capable of carrying casualties as an ambulance to transport casualties to the hospital or onward vehicles such as a helicopter is essential. In 2017 the Thurso based vehicle was noted to be approaching the end of its useful life and the Team began a fundraising campaign for its replacement. With the Thurso vehicle effectively off the road, the next nearest vehicle which the Team can access is in Inchnadamph, over 100 miles away.
It took nearly two years of fundraising to achieve the £51,000 target. Major donations came from a number of community benefit funds, including three supported by Foundation Scotland: the RWE Camster Community Wind Farm Community Fund, the RWE Rosehall Wind Farm Community Fund and the Stroupster Wind Farm Community Benefit Fund.
The project was not straightforward as production ceased of the intended vehicle and the Team had to wait 18 months until the next suitable vehicle entered production, causing the built slot to be lost at the vehicle outfitter and having to be rebooked once the schedule was known.
However, these problems were eventually solved and the Team was able to take ownership of its newly outfitted Mercedes-Benz 4x4 chassis Sprinter van.
36 team members have a much safer, purpose-built vehicle for transport of life-saving equipment and personnel to any callout. One of the main advantages of this vehicle will be the ability to provide command and control functions from the vehicle using the advanced radio and communications facilities it has available. Without the support of all the funders, this vehicle would not have been possible to afford and the team capabilities would have ether been halved or severely compromised.

Equipment Officer Paul Knapman
This is a real asset to the Team. Deployment to help our communities is far easier with a modern, reliable vehicle like this one. Not only does this serve as a transport vehicle, but also gives us communications and equipment carrying to allow us to help save lives

The Team Leader Sue Agnew
The new vehicle should last around 15 years and during this time could be used on callouts across Caithness and Sutherland, an area of some 770,000ha, making the community safer for locals and tourists whilst undertaking outdoor pursuits.