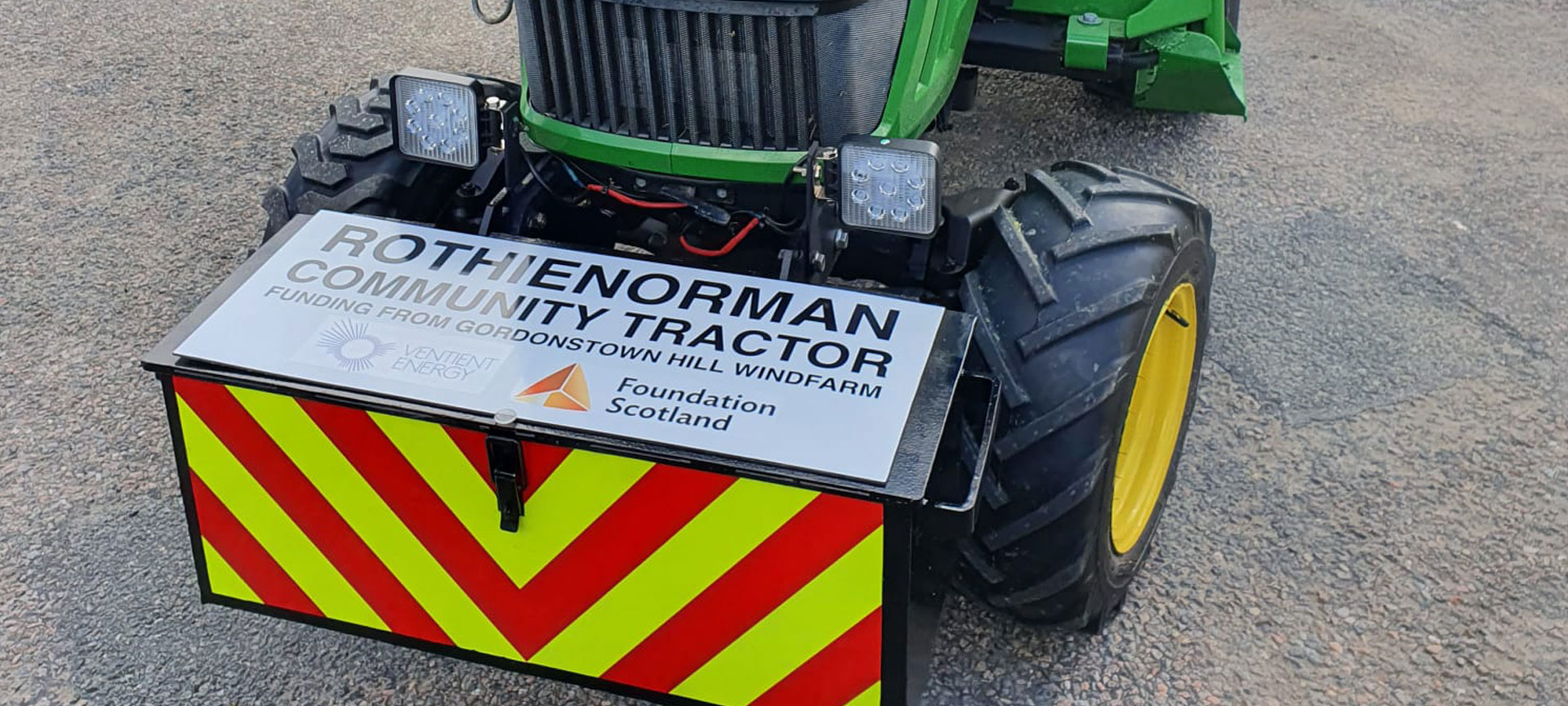 Local funding gets village winter ready
Rothienorman Community Association (RCA) seeks to promote the well-being of residents of Rothienorman in Aberdeenshire, improve the amenity of the area and the surrounding area, and manage and maintain the community playing field, as well as paths and other green spaces within the community, including cutting grass and watering planters. They are an unincorporated voluntary association, with membership open to representatives from the various constituted groups in Rothienorman and any interested individual members of the local community.
Through local consultations, maintenance of local paths and greenspace was identified as a significant local issue by residents of Rothienorman. This includes cutting to maintain access and visibility, for example at junctions. RCA has a Resilience Team that focuses on flood prevention and "winterisation". This includes snow and ice clearance from paths and pavements carried out by volunteer snow wardens, under a scheme promoted by Aberdeenshire Council. Unfortunately, the Council cut back their discretionary maintenance programme following spending cuts.
Following a successful application to the Ventient Energy Gordonstown Wind Farm Community Fund (Fyvie and Rothienorman) in 2019, RCA were awarded £14,400 towards the cost of purchasing a small compact tractor (known as the "Rothienorman Community Tractor") with a snow plough and gritter hopper. The aim of the purchase was to help maintain the greenspaces and public footpaths all year round, including clearing snow and ice from pavements around the village and the local sheltered housing.
In June 2020, the Fund awarded an additional £1,800 to help buy a flail verge/finishing mower for the tractor. This will be used to help keep the verges and other green spaces around the Village presentable during the summer months.
Previous grants received by RCA from the community fund included funding towards a public access defibrillator and support with the implementation of a flood response plan including the purchase of sand for sandbags.
The tractor and associated equipment have enabled the RCA volunteers to help cut the public grassed areas, water the summer flower planters in Rothienorman, and help to keep the pavements clear of snow and ice during the winter months. They are also available for use by local groups who are affiliated members of RCA.
In small communities such as Rothienorman, the local authority has reduced the regularity and extent of grass cutting of public areas and the amount of pavement clearing in winter. Therefore, the volunteers at RCA have stepped up to help to keep the village safe and attractive all year round for residents and visitors alike.

Tom Black, Community Funds Manager at Foundation Scotland