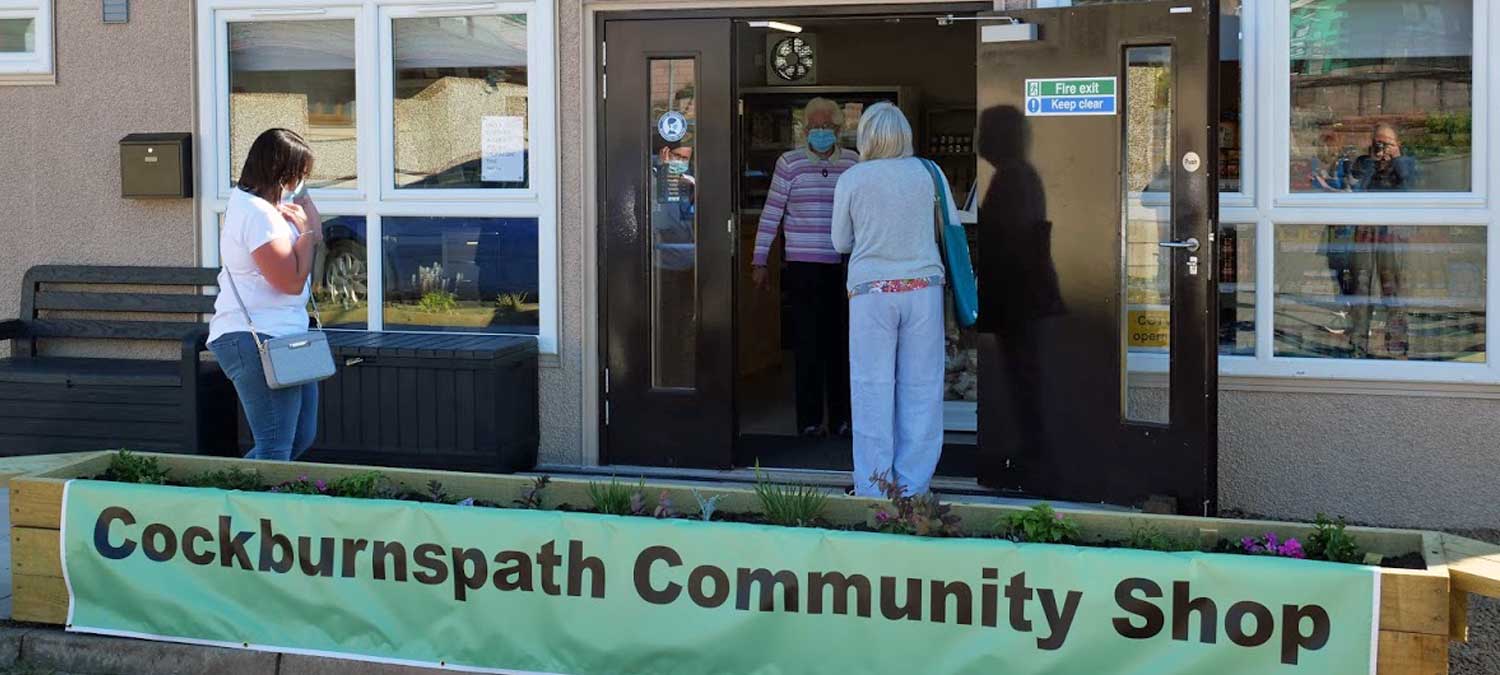 Community-owned shop opens in Cockburnspath
Date published: 17/06/21
Related fund:
A determined community has successfully opened its own not-for-profit shop following the closure of the much-loved village store in 2019.
Alongside an innovative Community Share Offer, grants from Greencoat Drone Hill Community Fund and Foresight Kinegar Community Fund have provided the funding Cockburnspath Community Enterprise Ltd (CCEL) needed to open the doors.
When Cockburnspath Village Store sadly and unexpectedly had to close in December 2019, it left a gaping hole in village life. Not only had it been the only shop for several miles, but it was also crucial to the social fabric of the village. Working together, the Community Council, a Community Development Facilitator (also funded by Foresight Kinegar Community Fund) and local residents formed CCEL to find an alternative.
CCEL has leased a site in the heart of the village for the next three years. A modular building was winched into place next to Cockburnspath Village Hall and football field, and dedicated volunteers worked alongside contractors and newly recruited local staff to kit it out. CCEL ultimately hopes to find or create a permanent building, but in the meantime, the current shop is already attracting residents, visitors and walkers using the Southern Upland Way nearby. CCEL produced this quick video tour when they opened on 5th June 2021, and their Facebook page showcases some of the local products now on sale.
CCEL, a Community Benefits Society registered with the Financial Conduct Authority, launched its Community Share Offer on Monday, 9th November. Each share is £10, and no individual was able to buy shares above £2,500. Community shares are different from regular shares – they cannot be sold for profit but may be withdrawn under certain conditions or transferred in the event of the purchaser's death.
Administered by Foundation Scotland, the Foresight Kinegar Fund contributed £5,000 for the aggregate used for levelling the site levelling, whilst Greencoat Drone Hill Community Fund granted £10,000 for the accessible toilet facilities, chillers and freezers installed in the shop.
Malcolm Jack, Community Funds Manager at Foundation Scotland, said:
"Community benefit funds from two nearby wind farms have played an important role in supporting this fantastic project. There is good evidence that the shop will help attract and retain residents, whilst helping showcase local crafts and produce, and overall contribute to the vibrancy of the Co'Path & Cove community. That is exactly what local Community Funds are for."