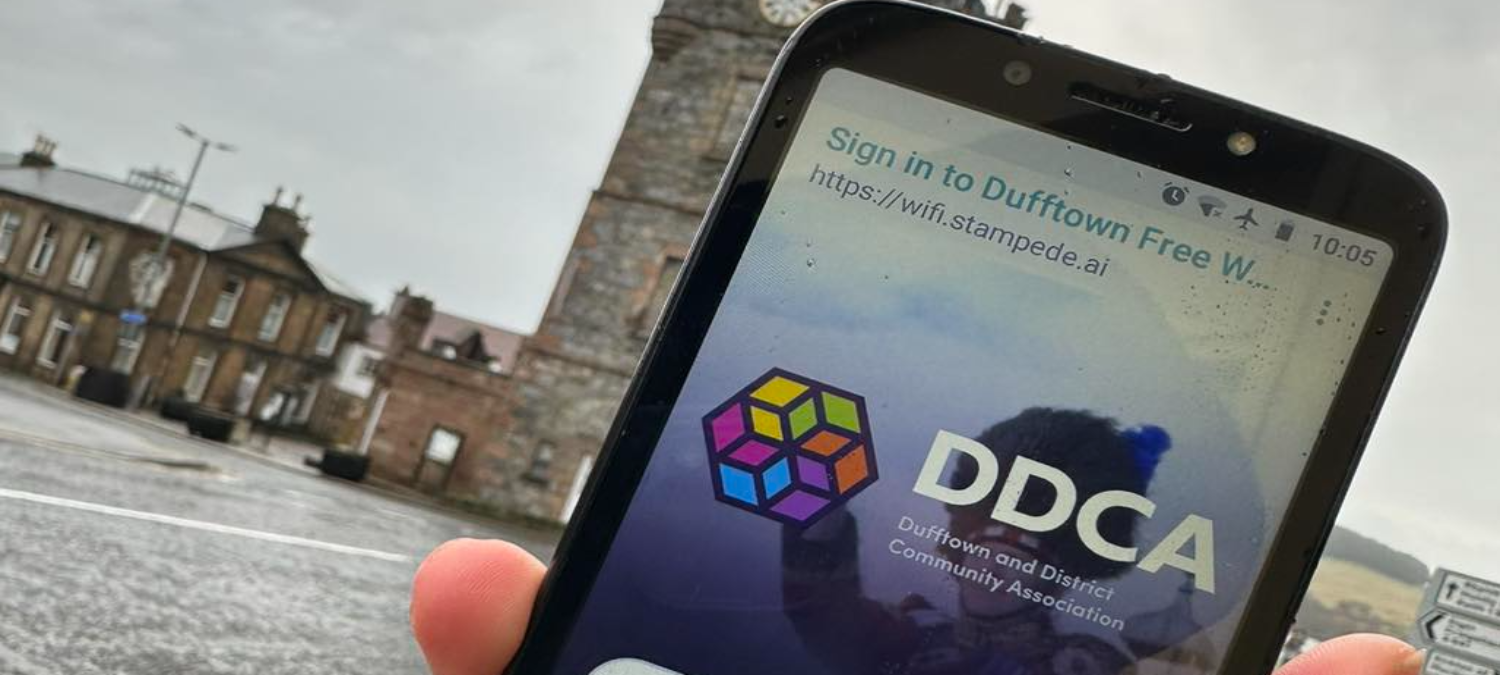 From Fountains to Football Strips…latest Dorenell Wind Farm Awards
Date published: 14/11/23
Related fund:
From fountains to football strips, the latest round of awards from the Dorenell Wind Farm Community Benefit Fund will support a range of projects and benefit local residents throughout the fund area.
The Fund is provided by EDF Renewables, and administrated by Foundation Scotland.
The range of awards includes Dufftown Football Club Under 12s, which was awarded £2,250 to purchase fifty new football kits for all players in the Club, and Sansum Martial Arts Speyside which was awarded £650 to contribute to equipment costs for youngsters participating in their activities. Both projects will encourage young people to be active and participate in sport.
Glenrinnes Community Centre was also awarded £4,120 for a project led by local volunteers to restore and reinstate the historic roadside fountain, which will be renovated and relocated to a better position, a little further from the main road.
The fund also continues to support projects which improve local facilities. Mortlach Memorial Hall received an award of £18,060 to contribute to a hall extension, and to upgrade the main hall heating system with a new boiler, which will improve energy efficiency and provide a better community facility for the longer term.
The Cabrach Trust was awarded £21,300 to fund professional fees to upgrade Inverharroch Cottage, which will help to improve tourism infrastructure in the Cabrach – a key part of their regeneration strategy for the area.
The Dorenell fund is also supporting a number of staff posts, creating jobs in the area and delivering key local services. Dufftown and District Community Association was awarded £48,835 over a two-year period to continue to part-fund the Community Development Leader post to deliver projects and events to support community development in Dufftown and District.
The post, which is also supported by Highlands & Islands Enterprise, is playing a key role in developing major local projects including developing the community-owned clock tower and a new project for affordable housing in Dufftown.
Viktoria Eriksson from DDCA said:
Being able to employ a community development leader means that Dufftown and District Community Association are able to progress our ambitious projects for the benefit of the community. For example, we recently completed the installation of public wifi around the Dufftown square to ensure that everyone can access the internet.
The Fund is provided by EDF Renewables. EDF Renewables, Director of Asset Operations, Piero Maggio said:
As always, it's wonderful to see the variety and scope of work our Community Benefit Fund helps support in the communities surrounding Dorenell Wind farm. We particularly enjoy seeing the employment opportunities created as a result of the fund and is testament to the hard work of our communities.
Projects that benefit the communities of Dufftown, Auchindoun, Glenrinnes, Glenlivet, Inveravon or Cabrach can still apply for funding of up to £30,000 for projects and activities that are charitable in nature, community-led and that will benefit local residents. Grant awards are recommended by a panel of representatives drawn from those communities.
Applications should be focussed on the environment, heritage, recreation, tourism, housing or transport.
The deadlines for the Dorenell Wind Farm Community Fund year ahead are: 30th November 2023, 31st March 2024 and 31st July 2024.
Advice on completing an application is available from the Fund Adviser Marion McDonald on 07912 759524 or email marion@foundationscotland.org.uk
A review process is currently underway to assess the impact of the fund to date, and look ahead to fund priorities and delivery over the coming years. Residents are encouraged to complete a survey here and attend local consultation events, including Dufftown and District Community Forum on Wednesday 13th December.
Dorenell also provides funding for microgrant schemes which are run by each of the community associations involved in setting up and running the Fund: Cabrach Community Association; Dufftown & District Community Association; Glenlivet & Inveravon Community Association and Glenrinnes Community Centre.
These microgrants allow smaller groups to apply for up to £1,000 for events, activities, equipment and projects. More information is available from local community associations.
Full details on the Dorenell Wind Farm Community Fund are available here.