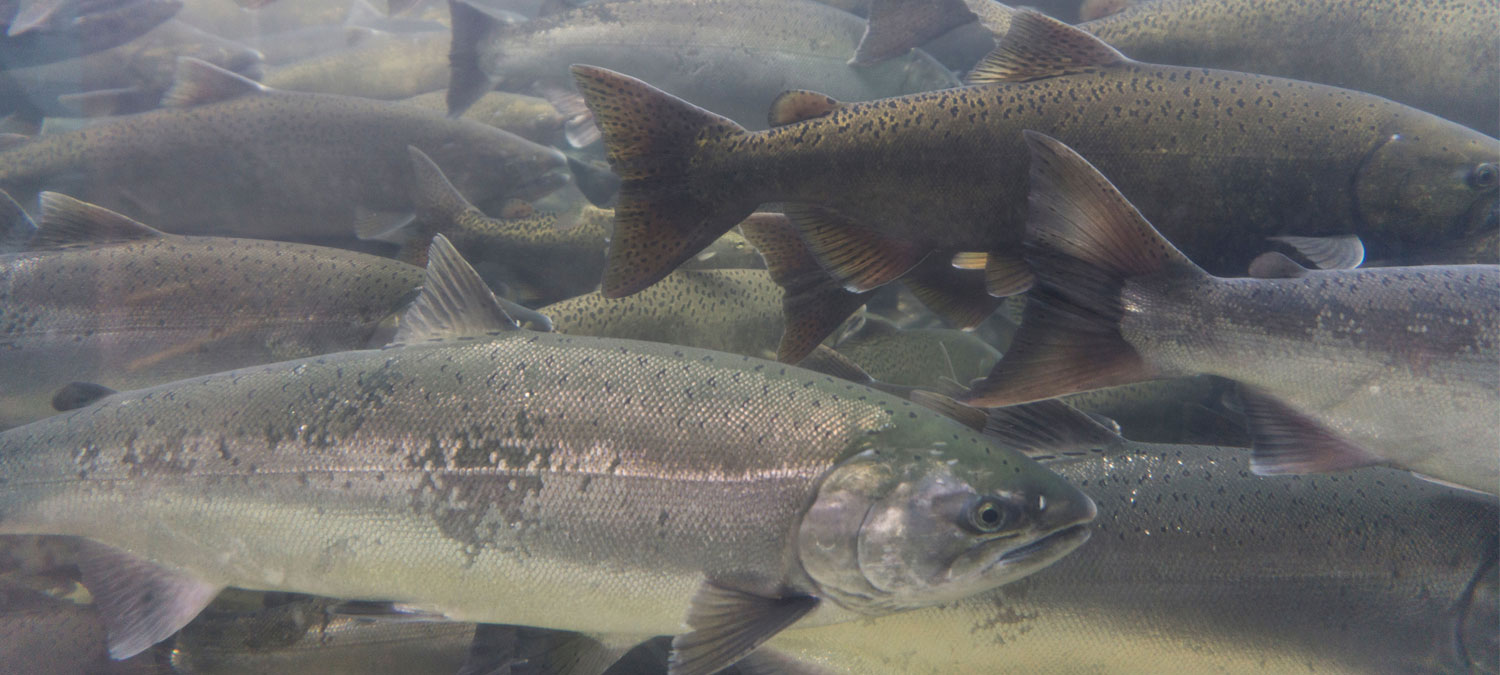 Investing in a sustainable future for Scottish salmon
Date published: 25/08/21
Related fund:
Scotland has a rich history of salmon resources, and this heritage relies on ensuring a long-term future for wild salmonid stocks.
To help tackle the current decline in wild salmon and sea trout within Scottish rivers, more than £70,000 has just been awarded to organisations across Scotland working to enhance and protect wild fisheries and habitats.
The awards were made by the Wild Salmonid Support Fund, a brand new fund created by the Scottish Salmon Producers Organisation (SSPO) and financed directly from Scotland's salmon farm companies. Launched back in April, the new fund is part of a 5-year programme that will see £1.5 million invested in supporting the status of wild salmon and sea trout stocks in Scottish rivers and enhance wild fisheries.
The fund, managed by Foundation Scotland, attracted applications from charitable organisations all over Scotland and the successful applicants were announced this week with five projects receiving funding, their awards ranging from £9,025 to £19,600.
One successful applicant was Argyll Fisheries Trust who received £18,600 to invest in habitat restoration in the Dalvuie Burn near Oban. The Trust's restoration project aims to improve the recruitment of sea trout in local waters. The burn is a typical coastal stream flowing into the north shore of Loch Etive at the Falls of Lora, Argyll and an important habitat for spawning and juvenile nurseries, vital to the recruitment of sea trout in the area. Alan Kettle-White from Argyll Fisheries Trust said:
"Argyll Fisheries Trust and our project partners are delighted to receive funding from the Wild Salmonid Support Fund to deliver fish habitat improvements on the Dalvuie Burn. The project aims to improve fish spawning and juvenile habitat for the sea trout and benefit wider biodiversity and local fisheries."
In the Highlands, Flow Country Rivers Trust is investing their £10,070 award into research. The project will extend survey work on macroinvertebrates to 10 disparate rivers in the trust area. As indicator species, the analysis is part of a long-term initiative to measure stream health and habitat for wild salmonid populations. By building up high-quality data across 10 locations, the trust feel that the project has the potential to increase understanding of local ecosystems and support evidence-based management of the riverine environment. Eleanor Constable from Flow Country Rivers Trust said:
"The Flow Country Rivers Trust is delighted to receive this funding and looks forward to monitoring the effects of river warming caused by climate change on stream insects and the young salmon that prey on them."
In the Outer-Hebrides, Urras Oighreachd Chàrlabhaigh (Carloway Estate Trust) received a grant of £9,251 to undertake a project that will aim to improve salmon spawning grounds on the Carloway river. Activities will revolve around the replenishment of gravel beds, and the Trust hope to recreate a natural habitat that will enhance spawning opportunities for wild salmonid. Sally Reynolds from Carloway Estate Trust said:
"Urras Oighreachd Chàrlabhaigh are delighted to have received support from the Wild Salmonid Support Fund. The grant will allow us to improve our reeds by addition of suitable gravel, which will improve the spawning conditions for our fish. We look forward to working together as a community to make this practical project happen."
Wester Ross Fisheries Trust and Lochaber Fisheries Trust were also awarded grant monies for their innovative proposals, joining the three other organisations in their efforts to improve and protect wild fisheries habitats.
Tavish Scott, CEO of the Scottish Salmon Producers' Organisation (SSPO) said:
"The SSPO and our member companies are delighted to work with the wild salmon sector to make these awards. Investing in good science and nature restoration projects on Scotland's rivers is extremely important. We look forward to seeing the results of these excellent projects which are funded by the sector, and those that will be delivered in future under this fund, to benefit Scotland's iconic wild salmon and sea trout."
Helen Wray, Head of Programmes at Foundation Scotland, said:
"We are delighted to partner with SSPO to deliver the new Wild Salmonid Support Fund. This is a unique opportunity for the Foundation to help support the future of the Scottish salmon industry and the local communities across Scotland who benefit from its success."
Dr Alan Wells, CEO of Fisheries Management Scotland, said:
"We welcome this investment in practical projects to benefit wild salmon and sea trout and the habitats on which they depend. Along with our call for robust regulation in Scotland to protect wild fish, projects of this nature are an important part of our overall strategy to protect and enhance Scotland's wild salmon and sea trout."
The fund is scheduled to reopen to new applications in Spring 2022. For further details, visit the Wild Salmonid Support Fund page. For details on all awards made in 2021 click here.