Carrick Futures
| | |
| --- | --- |
| Grant size | Up to £25,000 |
| Area | South Ayrshire |
| Key dates | |
| Application deadline: | 14/02/22 |
| Board decision: | End April 2022 |
| Application deadline: | 09/05/22 |
| Board decision: | End July 2022 |
| Application deadline: | 08/08/22 |
| Board decision: | End October 2022 |
| Application deadline: | 07/11/22 |
| Board decision: | End January 2023 |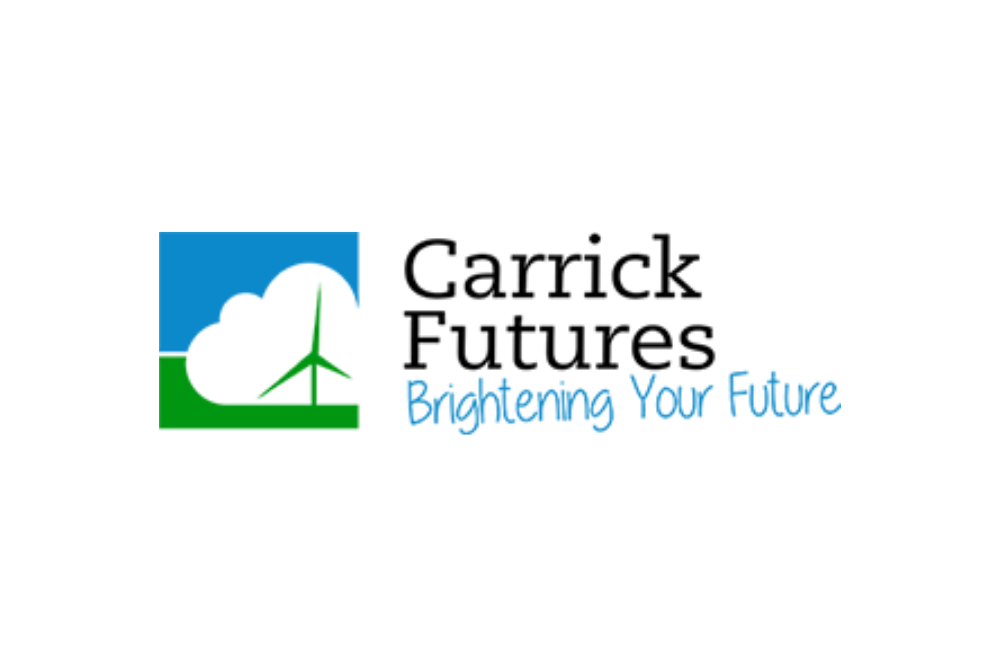 About this fund
Carrick Futures is supported by ScottishPower Renewables community benefit funds for Arecleoch and Mark Hill Windfarms in South Ayrshire and receives in the region of £350,000 from ScottishPower Renewables each year. However, amounts available for new awards vary, depending on existing funding commitments.
The fund primarily support projects located within or directly benefiting one or more of the six community council areas of Ballantrae, Colmonell & Lendalfoot, Barr, Barrhill, Pinmore & Pinwherry and Girvan & District. Some funds are also available for projects located within or directly benefiting the wider Carrick area. Priority will be given to applications which also benefit one or more of the main beneficiary communities listed above.
Carrick Futures supports a range of community activity in accordance with its own purposes as laid down in its Articles and Memorandum of Association. It is expected that ScottishPower Renewables will continue to make this annual donation for the operating life time of each wind farm.
The membership of Carrick Futures is up to 60 individuals, with up to 10 nominated by each of the six primary Community Council areas. Those members then elect up to 12 Directors, two from each of the six community council areas.
More information on the fund, including how to apply, downloadable application forms, guidance and fund deadlines can be found on the Carrick Futures website.
Purpose of this fund
Carrick Futures can support charitable activities that support the rural regeneration and sustainability of Ballantrae, Colmonell & Lendalfoot, Barr, Barrhill, Pinmore & Pinwherry, Girvan & District and Carrick.
Awards can support a wide range of costs and activities.
The Board has agreed three strategic aims, which it will use to prioritise proposed projects. These are:
Improving access to services (in particular public transport)
Enabling a diverse and sustainable population mix (services for young people and older people, but also activities that help create opportunities for families and working age people to live in the area).
Improving equality of opportunity (including tackling poverty and disadvantage).
Grant requests to support a wide range of costs and activities will be considered, such as equipment, running costs for local groups, staff or sessional worker costs, consultations, maintenance or refurbishment of community facilities and capital costs to purchase or develop community assets.
Additional criteria
Two levels of awards are normally available for activities that benefit the local community. The amount and type of information required from applicants differ depending on the size of the application being made:
Standard grants: £500 - £10,000.
Large grants: over £10,000.
There is a two-stage application process for large grants. An initial one-page outline proposal is required. The Board will review the proposal and agree on whether to invite a full application to future rounds.
Awards can be multi-year in nature, normally up to a maximum of 3 years. If the total request exceeds £10,000, an initial enquiry should be made using the large grant process.
For awards up to £500, a small grant scheme is also available and administered directly by each of the six main Community Councils. Please contact your Community Council directly for further details.
Who can apply?
Groups and organisations working to benefit people in any of the eligible communities can apply.
Your group/organisation must meet our standard eligibility criteria. You don't need to be registered charity to apply.
What can't be funded?
Information on what the Fund cannot support is provided here.
How are decisions made?
Carrick Futures is run by its voluntary Board of Directors, and has appointed Foundation Scotland to administer the Fund and support the Board. Foundation Scotland receives and assesses all applications to Carrick Futures. These are then considered by the Board who make decisions on all awards. Foundation Scotland also administers all awards and implements any further Fund activity that the Board may instruct.
The current Directors are:
Ballantrae - Laura Cunningham and Stuart Green
Barr - John Logan and Matt Cross
Barrhill - Andy Clegg and Rod Ekern
Colmonell & Lendalfoot - Judith Brzezinka
Girvan & District - Karen McCartney and Rhona Walker
Pinwherry and Pinmore - Roger Pirrie
Frequently asked questions
Decisions of the Board are final and there is no right to appeal. Projects that are not awarded a grant cannot be re-considered for the same project for at least one year and new information cannot be considered after a decision has been made.
How to apply
Please complete the online application form. Completed applications and supporting documents must be received by the application deadline. If you have any problems accessing the form, please email grants@foundationscotland.org.uk or call 01557 814927 and we can help.
For Covid-19 Response Fund apply here.
Contact information
Contact name
Clare Graham, Community Funds Adviser
Fund case studies
Read a selection of case studies detailing some of the projects and activities that have received funding from Carrick Futures and related outcomes.
This includes Girvan Men's Shed (more commonly known as the 'shedders'!) who used their funding to work in partnership with the Girvan Football Club on the development of new gardens within Hamilton Park.
Read case studies